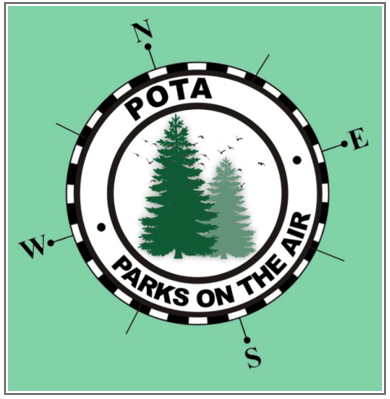 On July 8, 2023 W2ZQ performed a successful "POTA" activation from park K-6432, Washington Crossing Historic Park in Washington Crossing, Pennsylvania.
At 8AM based on the weather forecast, it was decided to locate the activation at our Plan B "iffy weather" site which had the distinct advantage of shelter from possible rain! We set up at the General Greene Picnic Pavilion…
… and from there, the fun began! Greg KC2POL set up his radio and computer at the right side of the pavilion pictured above, and quickly deployed his portable 15 Meter Delta Loop and his 40/15 Dipole in the field out to the right of the pavilion. By 9:13 AM EDT after a very quick setup, he and Tobi AD2CD began making SSB, FT4 and FT8 contacts on 40 Meters.
Bob KB3BB set up his IC-7300 toward the back left side of the pavilion, and with the help of a team of volunteers including Bob K3EDP, Leon N2DED, Ben AC3YD and others, a 140' four-sided rectangular loop antenna in the vertical plane was deployed, fed by a 4:1 current balun and RF choke in one enclosure which was hoisted 50' into the air utilizing a couple of very tall, conveniently positioned trees. The IC-7300 station was on the air making SSB contacts to Belize and Hungary on 15 Meters at 9:45 AM local time.
A total of six control operators made approximately 160 contacts over the next three hours manning two transceivers, and it was truly a multi-mode event spanning SSB, FT4 and FT8, and CW (a big thanks to Ben AC2YD for adding CW to the mix!).
In addition to those who took turns operating and logging, several other members and non-members came out to lend support and friendship. Among them were Rich KD2CQ, Glen NK1N, Dom N3DD, from PWA Mark WA3QVU, and a couple of other non-member visitors including a park ranger who was almost licensed years ago, and whose interest seemed to be rekindled by spending about an hour with us, observing and learning what's new with this great hobby.
A good time was had by all! (If you came out and we failed to mention you in the preceding list, please let KB3BB know and we'll be sure to include you in the final version of this story!)
Here's a picture taken toward the end of the event (and we'll likely be updating this story with additional pictures):