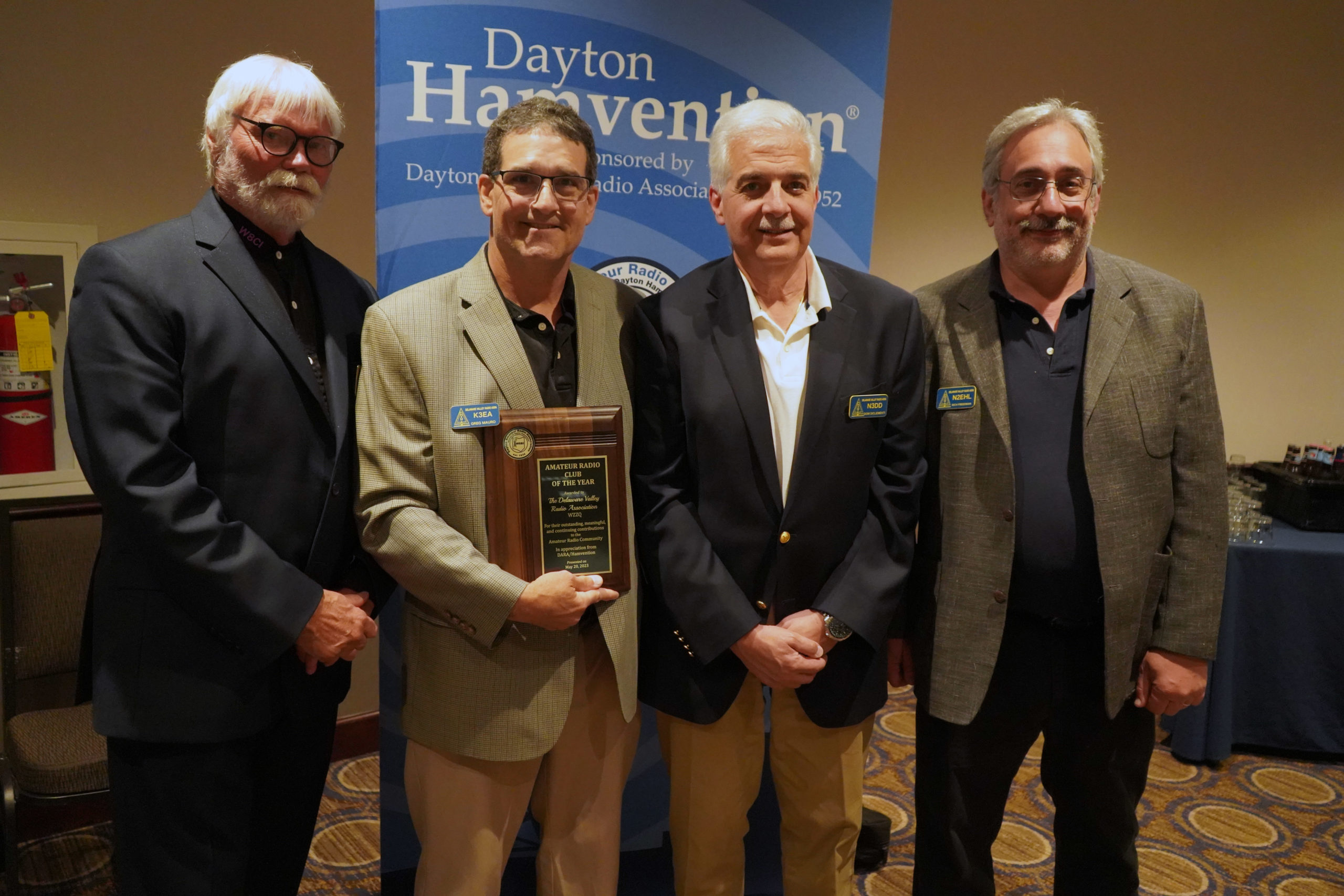 On Tuesday February 28 the Dayton Hamvention Awards Committee announced the winner of the Hamvention 2023 Amateur Radio Club of the Year is the Delaware Valley Radio Association. Pictured above are Michael Kalter W8CI, Hamvention Awards Chair with Greg Mauro K3EA and Dom DiClementi N3DD, both past presidents of the DVRA, and Rich Freedman N2EHL, DVRA Treasurer.
The Delaware Valley Radio Association (DVRA) is an ARRL affiliated club that was formed in 1930 and serves the area surrounding Trenton, NJ. The club has tripled in size over the last six years due to the wide range of activities and events that are offered. As an all-purpose club, the DVRA conducts a variety of activities, participates in Public Service events, offers operator training and mentoring, participates in Scouting events and training, holds a monthly meeting with guest speakers, and runs a world class Club Station W2ZQ. Training courses offered by the club include licensing classes and CW instruction. The use of online meetings has enabled DVRA to broaden its reach, to both members and speakers. A monthly New Ham Net and a weekly Tech Net on the club's VHF repeater provide additional reach. Members regularly check out W2ZQ.com and find a new date to mark on their calendars.
The center of activity is the Club Station W2ZQ, which operates on a regular schedule. The station was renovated six years ago and currently houses two complete HF stations, a 1296 MHz EME station, a VHF repeater, an APRS digipeater and a WinLink VHF-RMS node. The recent addition of EME capability has been optimized with the assistance of member Joe Taylor K1JT. Members can use the W2ZQ station for any style of operating and participate in the club's contesting efforts and Special Event operations. The station is also the site for the club's annual community Open House. Additional station activities include monthly hands-on seminars such as antenna building, electronic circuit demonstrations, and setting up a digital mode station. Most importantly, the exchange of ideas that occurs within the walls of the building is priceless.
Off-site events include Field Day, an annual series of Fox Hunts, Parks On The Air events, and assistance from the Antenna Committee at members' home stations. Last year's War of the Worlds Special event station W0W was held at the site of the 1938 Martian landing in nearby Grover's Mill, NJ.
The DVRA's focus on training and its diversification of projects attract new and prospective hams, and engage amateurs at all levels and with widely varying interests in our wonderful, multi-faceted hobby.
To read about the Dayton Hamvention 2023 award winners, check out the Hamvention Awards Site at https://hamvention.org/event-details/awards/