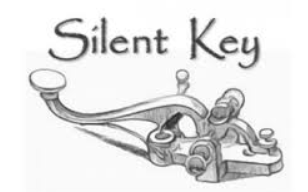 Dennis McClary KC2IMI, President of the DSRC passed away after surgery on Friday. He often helped the DVRA with communications at the County Triathlons.
The family has selected this weekend for Dennis's celebration of life. Although the notice is short, the family hopes that those who knew Dennis would attend. Due to the current circumstance, the services for Dennis McClary with be conducted as a Virtual Viewing. Information for attendance follows:
Friday, August 7, 2020 Virtual Viewing 4:00 – 6:00 pm.
A Virtual Visitation for Dennis McClary will be held Friday, August 7 at 4-6 PM (eastern) hosted by Simplicity Funeral and Cremation Services, at Glackin Chapel. Friends, coworkers and family are invited to attend.

Attendance requires Zoom for video, or phone for audio only. Guests
will be received in the main virtual vestibule and then have three(3) zoom breakout rooms available for guests to spend time with the family during
their virtual visit:
Chapel for Prayer or Meditation. This room will include a view of the coffin.
Tsao and McClary Family Room for greeting guests, similar to a receiving line. Ask the host to put you on the reception list.
Conversation Room, similar to waiting in line to speak with the family.
The zoom link is as follows, please click the link to join the virtual viewing. Funeral Home Director Kimberly M. Saul-Bowne is the host, and will move you between rooms.
https://simplicityfuneralservices.com/ is inviting you to a scheduled
Zoom meeting.

Aug 7, 2020 04:00 PM-6:00 Eastern Time (US and Canada)
Join Zoom Meeting
https://us02web.zoom.us/j/86828694348?pwd=TjQrMm5xcVhWWVRoRWNpYnBXaE9QQT09

Meeting ID: 868 2869 4348
Passcode: 860646
Or via phone conference: +1 301 715 8592

Saturday, August 8, 2020 Virtual Service at 2 PM.
Celebration of the Life of Dennis McClary
Minister Charlie Dieterich
The zoom link is follows, please click the link to join the virtual viewing.
Meeting time Aug 8, 2020 02:00 PM Eastern Time (US and Canada)
Join Zoom Meeting
https://us02web.zoom.us/j/83471862405?pwd=Sm9XbHlROUM1TkpiTlFoaXdmZmYzdz09

Meeting ID: 834 7186 2405
Passcode: 314159
Or via phone conference: +1 301 715 8592