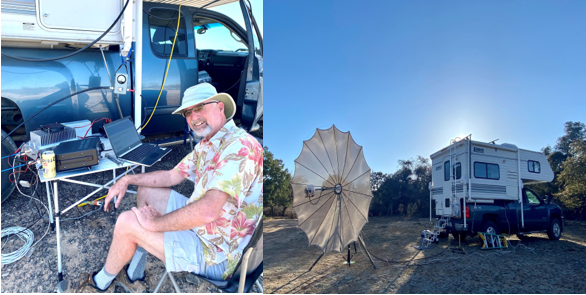 On Wednesday, October 13th 2021, the Delaware Valley Radio Association monthly meeting HELD VIA VIRTUAL WEB CONFERENCE will feature a presentation titled "KB7Q's Moon Bounce Roadshow" presented by Gene Shea, KB7Q.
After being in COVID lock down for almost a year, Gene, KB7Q was ready to get out and stretch his legs. This spring 2021, Gene made a lot of excitement-starved moonbounce (EME) operators very happy by travelling to and activating six (6) US States that are rarely seen on the 1296 MHz EME band during his epic 5 week tour.
Gene is a prolific moonbounce operator who frequently packs up his camper with 144, 432 or 1296 MHz portable equipment and heads out on the road for short trips. His spring 2021 1000+ mile DXpedition has a very special W2ZQ membership connection, so don't miss this presentation.
Open to the public. Feel free to join for all or part of the meeting.
Combined Directors/Business Meeting from 7:00 to 7:30 PM
Featured presentation at 7:30 PM
Members will receive an email with instructions on how to join the Zoom teleconference by October 11th. Members of the public are invited to request conference credentials by sending a message to webmaster@w2zq.com