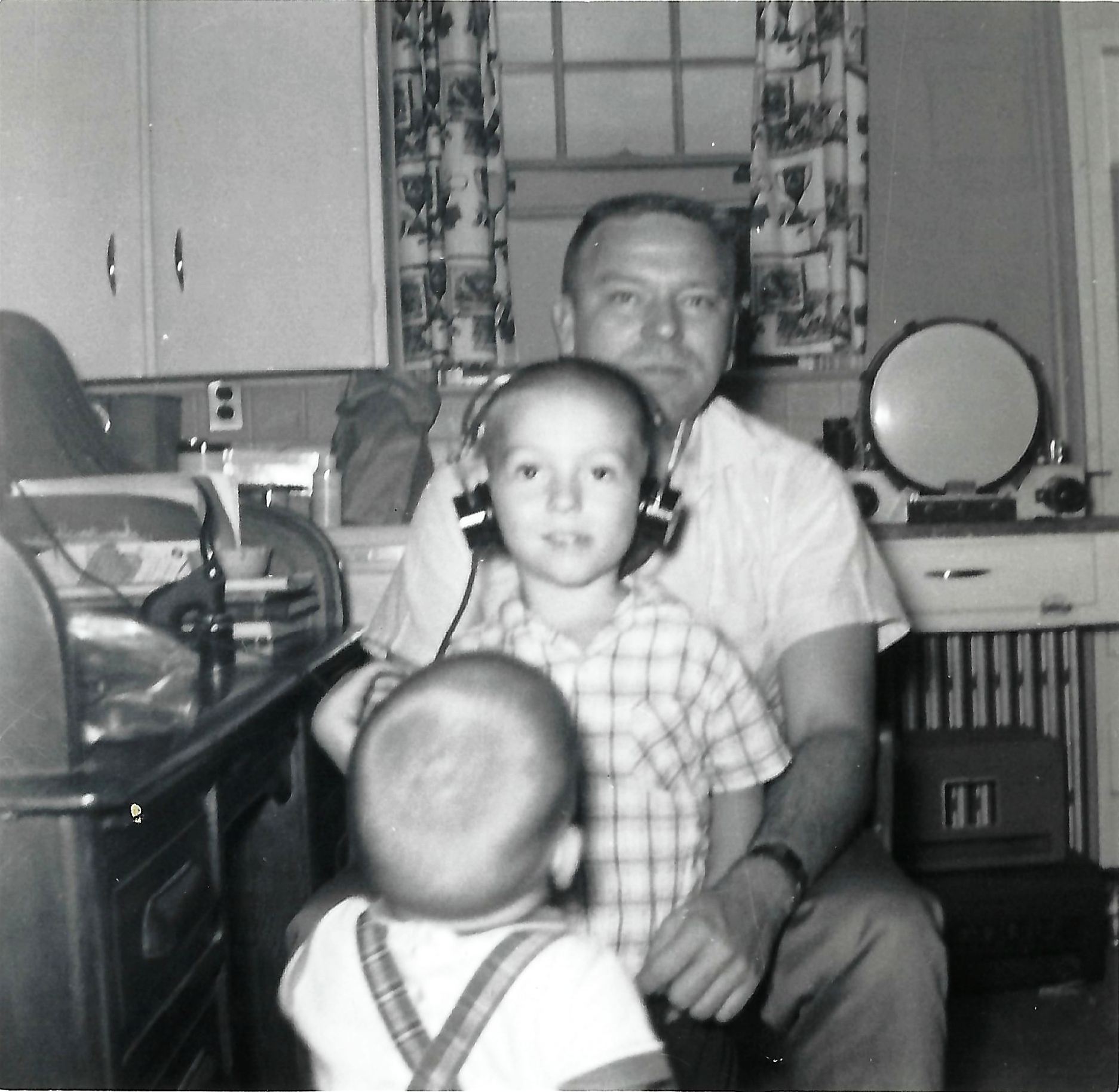 On Wednesday, September 13th, 2023, the Delaware Valley Radio Association's monthly membership meeting featured a presentation by Martin Crabtree, W3PR titled "Finding You Ham Roots".
Photo caption: Martin (middle), age 3, listening to his father's (Giles, K3DQZ, in back) Hallicrafters short-wave receiver on World War I vintage headphones. In the front is younger brother, Carl (WA3WSS).
In person monthly meetings are held at Our Lady of Good Counsel Church, 137 W Upper Ferry Rd, Ewing Township, NJ 08628 (Driving Directions). For the convenience of our members, these meetings are also hosted on Zoom. Members will receive an email with instructions on how to join the Zoom teleconference. Members of the public are invited to request conference credentials by sending a message to webmaster@w2zq.com.
Hams have been using call signs to identify their stations almost as long as amateur radio itself. As radio has evolved, the formats of the call signs hams use have also changed. Throughout this time, many call signs have been issued and reissued to other/newer hams. With the vanity call signs available from the FCC these days, one could easily obtain a call sign that was first issued more than 100 years ago.
Martin discussed the development and changes of ham call signs over the years and will share tools you can use to trace the history of your own call sign. Martin will also share the history of a few of the DVRA member's call signs including his own call sign, W3PR, which dates to 1913.
Martin Crabtree (W3PR, ex-WA3WMF) grew up with radio. He was listening to the short-wave bands on his father's (W9DEW, K3DQZ, W3PR, SK) Hallicrafters S-40 receiver as far back as he can remember. With his dad's support he obtained his first ham license in 1974. Martin is currently the DVRA's vice president and director of the club's training and license testing program.
Our monthly meetings are open to the public. Feel free to join for all or part of each meeting.
Announcements at 7:00 PM
Featured Presentation at 7:05 PM
Combined Directors/Business Meeting
1/2 hour social gathering after the meeting
Looking forward to seeing everyone at the next meeting!