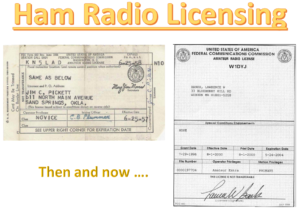 On Wednesday, October 10th 2018, the Delaware Valley Radio Association monthly meeting will feature a presentation on  "Amateur Radio Licensing:  From Incentive Licensing to the Present" by Dom DiClementi, N3DD.  Dom will  lead us on a brief review of the  major FCC license and rule changes over the years that shaped how we operate under Part 97 today.
First licensed in 1968 as WA3IFF, Dom holds an Amateur Extra License and a BSEE degree. Dom is the Director of Marketing for a major pump and industrial electrical gear distributor and is the DVRA's Station Director.  There are only 4  DXCC countries missing from his list!
All are welcome to attend.  A combined Directors/Business Meeting will be held from 6:30 to 7:30 PM, followed by a social/refreshment period from 7:30 to 8:00 PM, a five-minute announcement of this month's upcoming activity dates, and the featured talk at 8:05 PM.  All will be held at Our Lady of Good Counsel Church, 137 West Upper Ferry Road, West Trenton, NJ .  Feel free to join for all or part of the meeting.
See you there.  More details at http://www.w2zq.com/
Directions to DVRA Club Shack
The DVRA Radio Shack is located off of Exit 75 (old Exit 2) on Bear Tavern Road in Ewing Township next to the Trenton-Mercer Airport.
Talk in:
DVRA repeater 146.670 (PL131.8)
Directions:
The DVRA club radio station is immediately adjacent to I-95 Exit 75 (old Exit 2) at Mercer County Airport in Ewing Township. Head south on Rte 579 and immediately turn east into the short road marked NJ Dept of Transportation before you get to the airport entrance. If lost, just look for all the radio antennas across the street from the Ewing Water Tower!
When using a GPS, enter "798 Bear Tavern Road, Ewing NJ" and look for the driveway with the sign "NJ Department of Transportation West Trenton Maintenance Yard".  The DVRA club station is beneath all of the antenna towers on the north side of that driveway.